Bill Parsons
My name is Bill Parsons, and I have been carving traditional wooden gunning decoys since 1999. Born and raised in the Finger Lakes region of central New York, I hunted ducks and geese through my teens there. I brought my family to our current home in Magnolia, Texas in 1980, and have considered myself a Texan by choice ever since.
I earn a living as a carpenter in a theme park, although I was schooled in art and should be working as a graphic designer. Decoys seem to bring the love of art and the love of woodworking together. I carve decoys strictly because I enjoy them so much. Itís a hobby that easily supports itself, and I am always as busy as I want to be.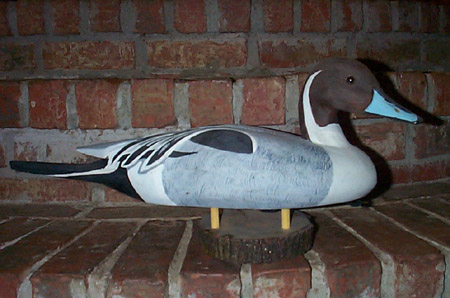 I got started on my first rig in the spring of í99, and before the paint dried on the first one, I had a friend offer to buy it for his mantle. Decoys have a way of endearing themselves to the hearts of their beholders, and seldom do they seem to end up in the water. I do have a large rig of teal that I gun over, and it grows smaller and smaller as friends are allowed to take a special decoy home as a remembrance of a hunt. But thatís okay, I can carve moreÖand teal are definitely my favorites.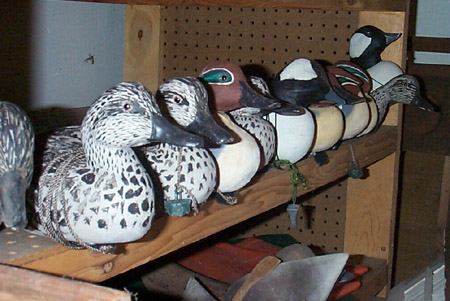 I have featured a lot of my decoys on Ebay, and have sold them to people in nearly every state in the lower 48, as well as some to Ontario, Canada. I regularly donate decoys to organizations that are willing to accept them, and take orders also. I recently had a friend buy a drake widgeon decoy to decorate the top of his groomís cake.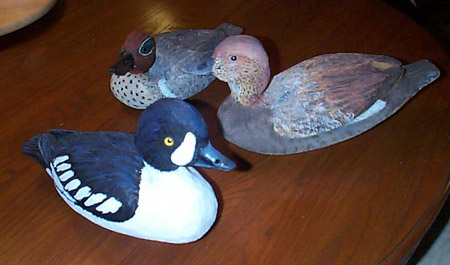 My choice of wood is cypress, but when I run out and cannot get more from Louisiana, I carve using western red cedar. It is a good soft grained wood that takes paint well. Most of my decoys are solid, and recently I have been hollowing them in the Illinois River style. It reduces their weight by as much as half, which is an important consideration in a hunting rig. I paint with flat oil paint, and use various methods to detail my carvings. Combing is useful for vermiculation, and I also stipple or blend paints to get special feather effects. Glass eyes are a standard in all my decoys except doves, which feature hand painted eyes.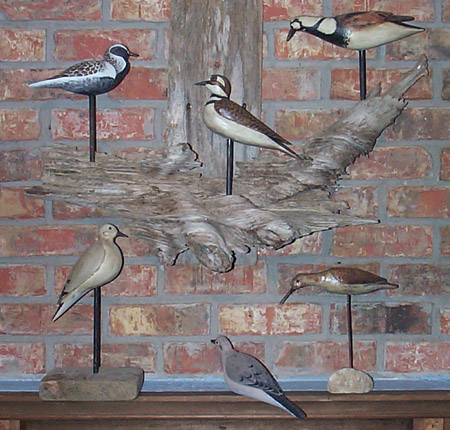 One of the biggest thrills of my current life is to acquire new decoys to add to my collection of antique and contemporary carvings. I will gladly trade one of mine for one from another carver. As for the direction I will be going tomorrow, who knows? I am just getting my feet wet in carving decorative decoys, which is a whole new ball of wax. Shorebirds have also begun to capture my fancy, and they are fun to research and carve too. I just wish there were more Texas decoy carvers. I have to travel to Houma and New Orleans, both in Louisiana, just to show my birds in carving competitions. I have won several ribbons as a novice, and hope to move up soon. Time and experience will help me improve.
I have a decoy web site at
www.billsdecoys.com
that I am currently updating.