Vincent Giannetto III
Web Page: http:// www.ducksandsuch.com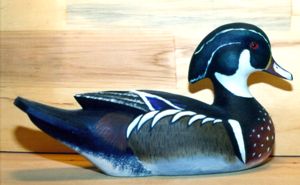 An author once wrote about Vincent Giannetto III that his love of carving "is born from the love of the outdoors, from respect and affection for game, and from recognition that nature's beauty is something worthy of preservation." This statement captures his true essence because it is a respect that he lives each day, and one he has handed down to his family. But he is one of the few who has been able to become a full-time carver, and set aside the demands of modern life to give over his heart to the things he loves: the whispering of the wind amongst the marsh reeds, the call of the lone loon or the swirling white of snow geese, the salt stains on his sneak box, the spray of bay water across its bow, the quiet beauty that comes when you leave behind the things that we have made and join with what we have not.
Born and raised in southern New Jersey, Vince still lives in the same home he, his parents, and his brother built from the ground up. A home not far from the banks of the Delaware River he hunted so often in his youth. Those who know this river know the history of other carvers and duck hunters along its shores who developed traditions which he has
become today's leading carver of - the Delaware River style gunning
decoy.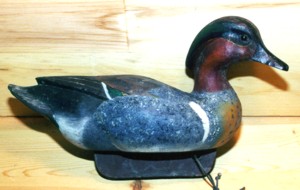 He attended his first decoy show in Babylon, Long Island in 1967 at the invitation of a local hunter and came away convinced that he could compete or at least try. The following year he entered a drake green wing teal and hen bufflehead in the show took blue and red ribbons respectively. In 1969 he took 10 ribbons in shows from Maine to Mississippi, and Michigan to Long Island. As he increasingly found his way into the winner's circle, and his work became increasingly known and respected, Giannetto decoys came to be sought by collectors and hunters alike.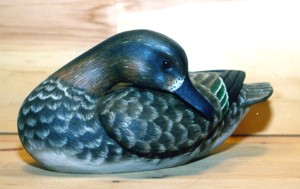 To date he has won over 15 Best-in-Show ribbons including the Best Geese and Confidence Decoy in the Open Class at the World Championship in Ocean City Maryland. The Virginia Beach Show, Ohio Show, Collectors Show Westlake Ohio, Old Time Barnegat Bay Show, Toms River Show, Manasquan Show, Chincoteague Virginia Show, and Havre' d' Grace Show have all also added to his Best-in-Show honors. His work has traveled a long way from the shores of the Delaware and been sought out by the Audubon Society, Ducks Unlimited, collectors, painters, and authors alike. He and his artwork have been featured in Country Living magazine, Country Business, New Jersey Outdoors, numerous newspapers articles and news interviews.
As his notoriety started to grow Vince began thinking about taking up carving as a full time career. But it wasn't until about 18 years ago that he was able to put away his mason's trowel and dedicate his time solely to carving. He often jokes that he never did sell that trowel in case things go bad and he has to go back to laying bricks. For Vince it doesn't matter what he is carving, he's still able to spend time doing what he loves. Of course there are times when he misses the thrill of competing, but for the most part he overcomes this by accepting invitations to judge the decoys at shows he attends.
And every once in awhile, just so everyone doesn't forget, he heads outback and carves a rig of decoys to hunt over. And you'll find, if you look closely at the rig he sets out in his 60 acres of protected wetlands along the Delaware Bay, the next Best-of-Show decoy.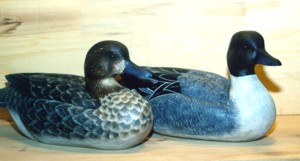 Each decoy is individually hand-carved and hand-painted, usually from Cedar wood and finished with oil paints. Each is hand floated and most are gunned over prior to sale. Over the years Vincent has carved almost every species, but Teal are amongst his favorite to carve, since they frequent the Jersey bays so often.