John Cottenham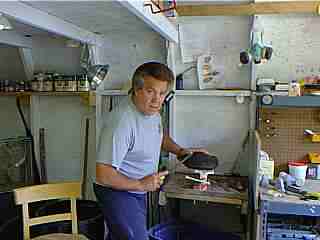 I started duck hunting with my first gun a Stevens 16ga single purchased from the local Rexall drug store when I was 12. Didnít know there was a season, so maybe my first duck was a Bufflehead off a frozen river in the middle of Michigan. As an adult I always purchased the first duck stamp of the year at the local post office. Often it has been said that I was queer for ducks. I never took that as a put down.
I started decoy carving seriously in 1999 after many false starts as far back as 1964. I made wooden blocks and tried different things, some worked some did not. Wood still intimidates me and I will not end up being a decorative carver. I had never tried cork until last year and even then had no idea what I was doing until I spent some time with Willie McDonald of the Kalamazoo MI area. and he really got me into this decoy carving thing. His ability to teach by demonstration and interaction blew me away even though I have taught for years in my profession. If you are a beginner and can find him putting on a class or seminar anywhere you need to get there. His business has gone from a storefront to the web and the transition is great.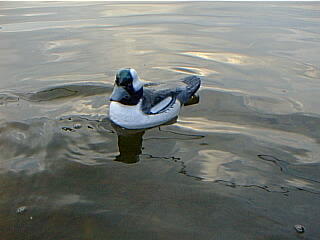 I have started out with divers, bluebill, redheads (my favorite duck), cans and ringnecks. When I have mastered them I will move on to puddlers. I have used dark cork, very dirty, and now I use light cork exclusively. Acrylic paints with a brush and then followed by an airbrush seems to work out for me. I have not mastered detailing yet and may never do so. If a bird gets close enough to my decoys to pick out feathering I stand a 10% or slightly better chance of bagging it. I didnít say I was a perfect shot. You can see more of my decoys at http://www.jacducks.com , which I update regularly.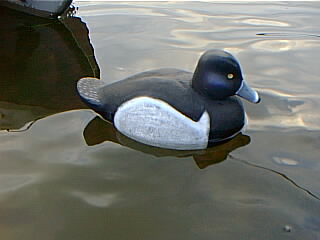 Hunting on large waters like Saginaw Bay or the beautiful Le Chenneaux Islands area of Michigan I like to have white in my diver spread for long range visibility. I believe that divers come to the spread, whereas puddlers head for the location despite the spread. My position is that the guy who needs cork decoys is the one that hunts heavy waters not the marsh dude. They sure look good though, those cork puddlers.
I have decoys spread around the country in MA, NJ, NY, TX, IL, OR, Al, GA, MN, ND, WI, MI and places I canít recall. I consider myself an amateur carver even though I have sold some decoys because I donít have the experience other long time carvers have. My greatest asset in carving is 46 years of fowling.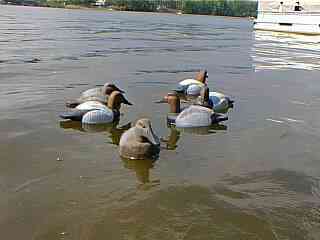 When I am asked for decoys I let people know up front that my birds are not for collectors, they are decoys for hunters. I have not gotten into the competition arena as of yet, although I may float a trial balloon in August. I like to think that the best judge of decoys is a duck, but it sure is nice to look at a good spread when things are slow and you are able to say, "spread sure looks good."
If you have ever thought of carving, give it a try. There are plenty of sources of research on the web and I have never been turned down when I asked a question of another duck hunter or carver.
I built a Great lakes layout from hand written observations of those I had seen at Pt. Mouilleís September duck carnival back in 1966. I hunted that for quite awhile all over Michigan. I had at one time 7 boats, mostly for waterfowling.
My two most boats recent can be seen on my homepage at http://www.jacducks.com
The scull was built in 98 and the Sneak box in 99. Both were from plans purchased from Glen-L. Great devices those little duck boats.
John Cottenham
Beaverton, MI