Mark Champlin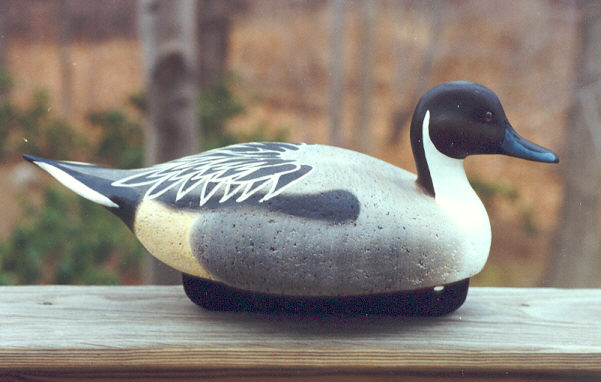 My name is Mark Champlin and I live in Rochester, NY. I have two children, a son and a daughter. My son, Jeff, is now old enough to hunt and has gone duck hunting with his dad the past two years since getting his junior hunting license. I'm a strong believer that the tradition of our sport rests in the hands of our young people, and teaching my son the sport of waterfowling is a great calling in life. I work as a landscape designer for a large landscape contracting firm that does business all over western New York State.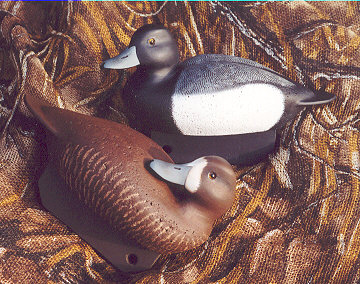 I didn't start duck hunting until I was in my early 20's, but my love for waterfowl started at a much earlier age. As a teenager I became very interested in birdwatching (the politically correct term now is "birding"). I became involved in the local Audubon group and spent the next 5 years identifying and photographing all types of birds in various habitats. We made regular birding trips to a local national wildlife refuge (Montezuma), and at one time I held a banding permit. It was then that I went off to college and my interest was lost for a while until I met and married my wife, Barb. Her father owns a camp on the northeast end of Lake Ontario. It was then that I became hooked on waterfowling. The camp, meant as a summer retreat also held a secret in the fall. Migrating ducks pour out of the St. Lawrence River and on their southward journey, they move past our camp, located just north of the Black River Bay. I have hunted that area for the past 20 years and have also expanded to cover most of western New York, including the shores and bays of Lake Ontario and the western Finger Lakes region.
I became interested in decoy making about 8 years ago. I always enjoyed the off-season repairing and repainting of my decoy rig and one thing led to another. I found a source for cork and other supplies, placed an order, bought some books and decoy patterns, and started carving with no other formal instruction. I then began attending some shows and competitions. I would photograph the decoys at carving contests and refer to bird field guides for help along the way. I solicited very little help from other carvers, although I do have a special mentor- Jack Flynn. Before long I was entering the local Rochester/Braddock Bay gunning decoy contest and started picking up a few ribbons from time to time.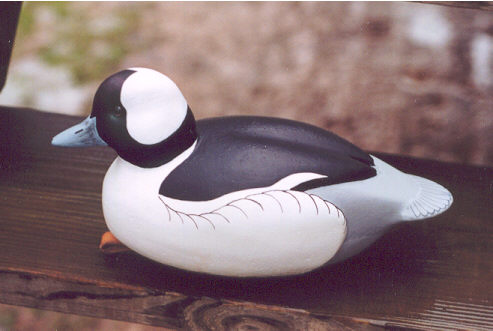 My decoys are strictly gunning decoys and are not mantel birds by any means. I use Chesapeake high-density cork with carved white pine or cedar heads that are screwed on and glued. I use glass eyes and golden acrylic paints on all my decoys. The keels are 1" thick standard lumber yard pine and usually 2 ¼" to 2 ¾" wide and drilled out with a wood bit so that cylinders of lead can be poured into the keel for self-righting the decoy. I haven't tried to sell any of my decoys, however I usually donate one each year to our local Ducks Unlimited chapter dinner for their silent auction. The canvasback decoy pictured here sold on the silent auction for $90.00! I was real happy about that. I take a lot of pride in putting my cork blocks out in my spread of decoys. There is no doubt they make a difference.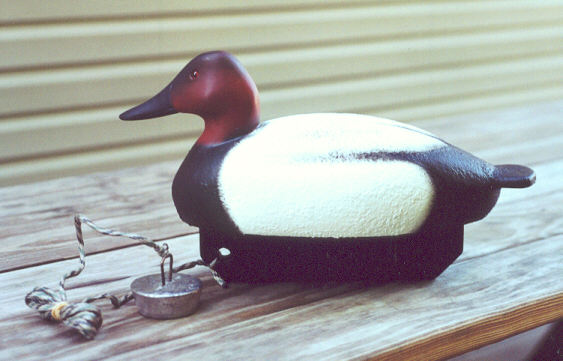 My favorite carver is Ken Harris of the upstate New York and Thousand Islands region. His decoys are legendary and sought after. He was known as the man whose decoys could lure in the wary black duck.