Mike Burt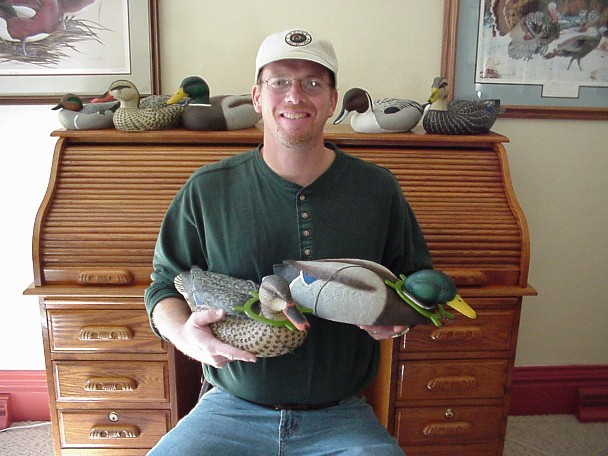 My name is Mike Burt. I live in Grinnell, Iowa with an understanding wife and 4 wonderful kids- 2 girls, 2 boys ages 7 to 17. I am employed by Grinnell College in Facilities Management as a grounds, sports field, and landscape manager. I began hunting pheasants with my father and uncles at an early age in the late '60's. However, I soon was not satisfied with a few weekends of hunting per year and wanted more opportunities to hunt. I got hooked up with a friend and his dad and another gentleman who quail hunted every weekend of the season. They adopted me into their weekend hunting family, and we shared many memorable hunts in south central Iowa.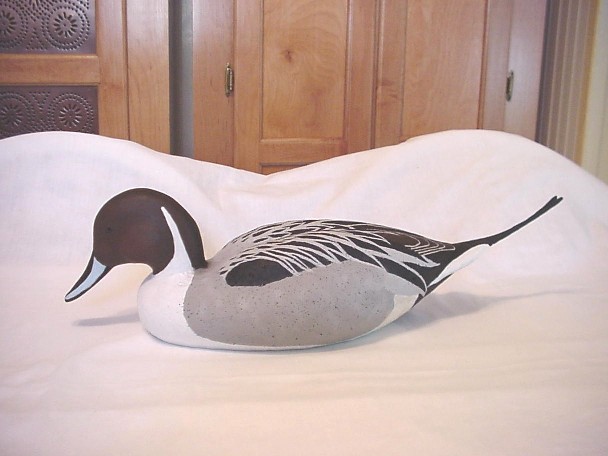 My friend and I soon wanted to further our hunting opportunities and we took up duck hunting. We were self taught and avid waterfowlers. If I only knew then what I know now, or at least now had some of the enthusiasm (and time) that I had then. Anyway, I have enjoyed many great years of waterfowling. I currently field hunt geese and hunt ducks in water controlled marsh complexes and reservoirs. I also hunt pheasant and spring hunt turkeys. I developed an interest in carving while an undergraduate in college. The library at Iowa State University had some great old publications on early duck hunting and decoy carving. I bought some basswood and carved a couple of crude working decoys and a couple of crude decorative ducks.
After a decade hiatus, I got interested again in carving in the early '90's. I bought a Foredom and a Dremel power carving tools and began carving decorative wildfowl. I met a fellow carver from town, Clark Weaver, and we have become good friends and hunting partners through our mutual love of hunting and wildlife. My carving was really on and off again- the time it took to carve the full sized decorative decoys was really hard to come by, until I recently got interested in carving working decoys from cork. I have just completed a rig of 15 decoys: 12 mallard, including 8 drakes and 4 hens; and a drake black duck, a drake pintail, and a drake green wing teal.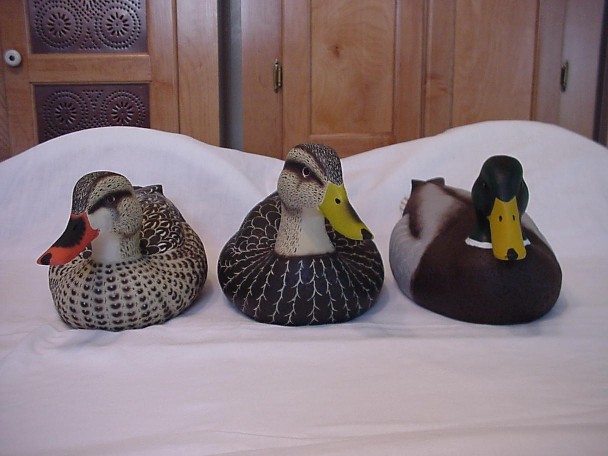 My decoys are made from high density tan cork with basswood heads and wood tail inserts. I painted these with exterior latex house paints that I pigmented to obtain the desired colors, and then airbrushed with Jo sonya acrylics paints for some softening, highlighting, and detail. This was my first experience with airbrushing and I am hooked. I am anxious to paint a decorative with airbrush techniques.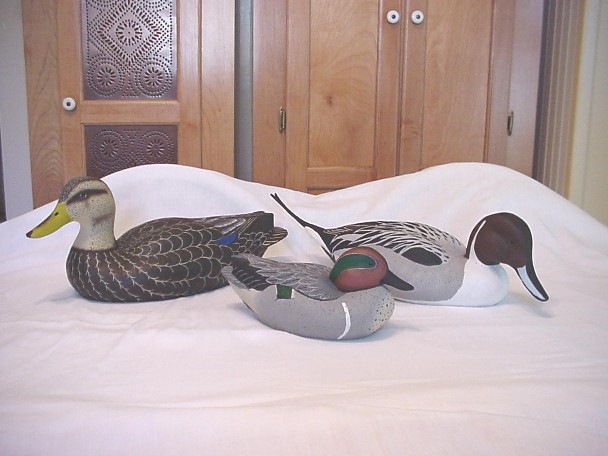 I have been influenced by many carvers. Local carvers Clark Weaver and Bob Kroese have been great resources and influences and inspirations for me. I love the historic work of Charles Perdew, Shang Wheeler, and the Ward Brothers. Contemporary carvers are so many and so good. I marvel at Jett Brunet's and Pat Godin's decoratives. I love Tom Christie's and Paul Foytack's working decoys. I study my Wildfowl Competition magazine and enjoy all the great work being done out there. I found the high density cork really easy to carve and work with. I obtained it from Willy McDonald at theduckblind. Thanks to Willy and Ronnie Ladd for answering my many questions regarding working with the cork. I have enjoyed this websites and the stories of all the carvers listed here.
Thanks and good carvin'.
Mike